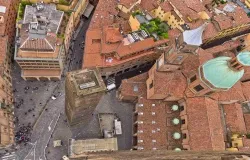 A guided cultural tour of the town of Bologna with its main focus on food and lifestyle. North-East of Italy, Emilia Romagna region.
Item Description
Season: All year
Operating Days: Daily except Sundays
This is a private experience
Minimum # of participants: Minimum 2 – Maximum 8 people
This experience is for all ages (adults and children)
Starting time: 9.30am
Duration of the experience: 2h30
Included: Private guide, Tastings of cheese & cured meats, 1 type of fresh pasta (tortellini or tagliatelle or lasagne), Coffee with a piece of chocolate/ small piece of pastry or gelato, A glass of local wine
A guided cultural tour of the town with its main focus on food and lifestyle: you'll stop at some traditional food shops and taste our local products and learn about legends, stories and jokes. Walking round the medieval market you will try different foods among mortadella, ciccioli, salsiccia passita, chocolate, etc.: all the tastings will make your lunch. You may also have the chance of seeing the typical sfogline at work: these ladies are traditional pasta-makers: with skill and patience and a magic touch they  show the curious visitors how to make and roll the perfect pasta into tortellini, tagliatelle and lasagne!
Price per person from Euro 120.00