/

Unesco World Heritage Sites

UNESCO WORLD HERITAGE SITES IN ITALY
---
Italy counts 53 UNESCO World Heritage Sites (2 new introduced in 2017) within its borders, the most of any country on the World Heritage List.
The Convention Concerning the Protection of the World Cultural and Natural Heritage, adopted by the UNESCO General Conference on November 16, 1972, states that the organization is the official designator of these sites. 
The goal of the Convention is to identify, according to precise criteria, areas, zones and places containing unique characteristics, of particular importance in regards to culture, archaeology, environment or landscape. 
Italybeyond will be happy to organize packages to visit the Unesco sites that you desire. Please use our request form.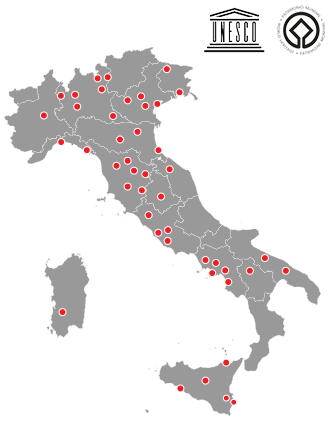 Clicking on the name of the Site you are linked to the official Unesco website
---
NORTH ITALY SITES
CENTRAL ITALY SITES
REGION
Piemonte-Lombardia
Friuli Venezia G.
Veneto
Emilia Romagna
Lombardia
Veneto

Veneto
Lombardia
Emilia Romagna
Emilia Romagna
Liguria
Lombardia
Liguria
Piemonte
Trentino Alto Adige
Lombardia
Veneto
Piemonte
REGION
Umbria
Lazio
Toscana
Lazio
Toscana
Toscana
Toscana
Marche
Toscana
SOUTH ITALY SITES
MULTIPLE REGIONS
NATURAL HERITAGE SITES
Toscana
Toscana
Lazio
Lazio
REGION
Campania
Sicilia
Sicilia
Campania
Puglia
Campania
Campania
Sicilia
Sardegna
Sicilia
Puglia
Basilicata
Campania
Sicilia
REGION
Various
Various
Various
REGION
Various
Lombardia
Trentino Alto Adige

Sicilia
Sicilia
---